When figuring out what to purchase first for a home gym, many people turn to free weights, like a set of dumbbells or a bar. Most people are familiar with their function and know at least a few exercises they can start with.
But there is another option, which may be safer, more versatile, and more enjoyable. Cable machines provide hundreds of exercises that can be done in a controlled way, providing tough resistance to the muscles without needing super heavy loads or risking dropping the weight on yourself!
This review provides 10 contenders for the best cable crossover machine to add to your home gym setup.
1. XMark Functional Trainer Cable Machine
Summary
The Xmark functional trainer resembles the type of cable crossover machines you'd find in your local big-box gym. It features not one, but two weight stacks of 200 lbs., along with eight different handle attachments for every kind of cable exercise you can think of. The Xmark cable machine also has a split bar for pull-ups, with a space-saving gap to avoid the machine being too tall.
This crossover station is a light commercial grade, and along with its two weight stacks can be a feat to transport into your space and to assemble. But if you want one quality machine to use for hundreds of different exercises and that will last a lifetime, this might be one of the best cable machines for you.
Dimensions: 65" x 43.5" x 83"
Pros
A wide range of attachments included
2 x 200-pound weight stacks
Commercial gym machine for home
Cons
Challenging transport and installation
Key Takeaway
The XMark functional trainer cable machine is for those who have the budget, space, and need for a commercial facility-grade cable machine. It comes with all the cable handles, attachments, and weights you need to train every muscle group for life.
2. FreeMotion Dual Cable EXT Crossover
Summary
Another machine with dual weight stacks, but with a newer, state-of-the-art design, the FreeMotion Dual Cable crossover machine is a more compact piece of equipment. Its highly adjustable arms allow all manner of exercise combinations for all muscle groups.
The dual setup of this cable machine also means you can work out with a partner at the same time, each having your own weight stack. Lower body exercises can be done with the leg strap attachments from a low angle.
The FreeMotion EXT displays 16 exercises for different muscle groups on its frame; these are just a few of the hundreds of exercises able to be done with this cable machine. The rotating arm and swivel pulley eliminate the need to stay at a specific angle for the pulley to stay aligned.
This is a machine that works with you to get the most effective workout possible. One of the best cable machines on the market.
Dimensions: 60" x 113" x 84"
Pros
Heavy-duty cable machine

More compact footprint

State of the art design
Cons
Key Takeaway
The Dual Cable EXT from FreeMotion is the modern standard for the cable crossover machine. If you have the budget, this space-saving but a very heavy-duty machine will be the only piece of equipment you will ever need.
3. Body-Solid Powerline PCCO90X Cable Crossover Machine
Summary
The Powerline PCCO90X from Body-Solid is a more simple cable crossover machine than the previous two models. Consisting of a wide frame with high and low pulley points, it is a plate-loaded cable machine, requiring you to place your own standard or Olympic plates as resistance. Both one and two-inch pegs can be attached to smoothly hold different diameters of weight plates.
The Body-Solid Powerline can also have a pull-up bar attachment placed in the center of the frame. The extra room afforded by its large frame makes this one of the best cable machines in terms of clearance for pull-ups.
If you want a simply designed, lighter weight machine - provided you have the extra space - this cable machine from Body-Solid is a cost-effective choice.
Dimensions: 39" x 112" x 82"
Pros
Wide machine good for cable flys

Optional chin-up bar with space for clearance

Accepts standard or Olympic plates
Cons
Requires separate purchase of weights

Cables are not adjustable - only high and low pulleys
Key Takeaway
If you have the space for a nice, wide-framed cable crossover machine, the Body-Solid Powerline is a simple but effective cable machine for your home. If you already have your own weight plates, you'll be ready to load up the machine and go!
4. Valor Fitness BD-61 Cable Crossover
Summary
The Valor Fitness BD-61 cable crossover is another unique combination of hardware. It is a plate-loaded machine and has two adjustable arms with 17 height positions, as well as a lat pull and low angle pulley for curls.
This is a high-end option for plate-loaded cable machines, with the pulleys all having a 180-degree movement to give you freedom of motion. You'll have every muscle group covered with the versatility of this machine.
The lat pulldown attachment can be supplemented with the split pull-up bar for optimal progressive overload as you get stronger. Additional handle attachments such as rope handles and triangle grips can be purchased separately.
Dimensions: 56" x 50" x 81"
Pros
Additional central high and low cables

Relatively small footprint

Pivoting pulley brace
Cons
Key Takeaway
If you want a versatile cable crossover machine frame and have your own weight plates to load it with, the Valor Fitness BD-61 is an amazing home gym cable machine. One of the only models featuring its own dedicated pulldown and low row pulley attachments in addition to the two single arms.
5. Body-Solid Best Fitness BFFT10R Functional Trainer
Summary
This next option from Body-Solid is a more compact cable machine, only having one central weight stack. If 190 lbs is a high enough amount of weight for your needs, this single-stack design is handy to save space while still offering dual adjustable pulley handles.
The BFFT10R is one of the best cable crossover machines for a home gym; not only because of its space-saving capacity but also for its sleek design. If you want to use a cable machine for beginner to intermediate upper and lower body training, and don't want or need your home gym equipment to be too heavy-duty, this Body-Solid Functional Trainer is for you.
Dimensions: 61" x 55" x 84"
Pros
Smaller footprint

Adjustable swivel handles

Straight pull up bar
Cons
Lacking second weight stack for heavy lifters
Key Takeaway
If you need a cable machine that doesn't take up too much space, this compact option from Body-Solid is a stylish option. With a pull-up bar and adjustable handles, the BFFT10R offers all the basics of a pin-loaded cable machine.
6. Rogue CT-1 Cable Tower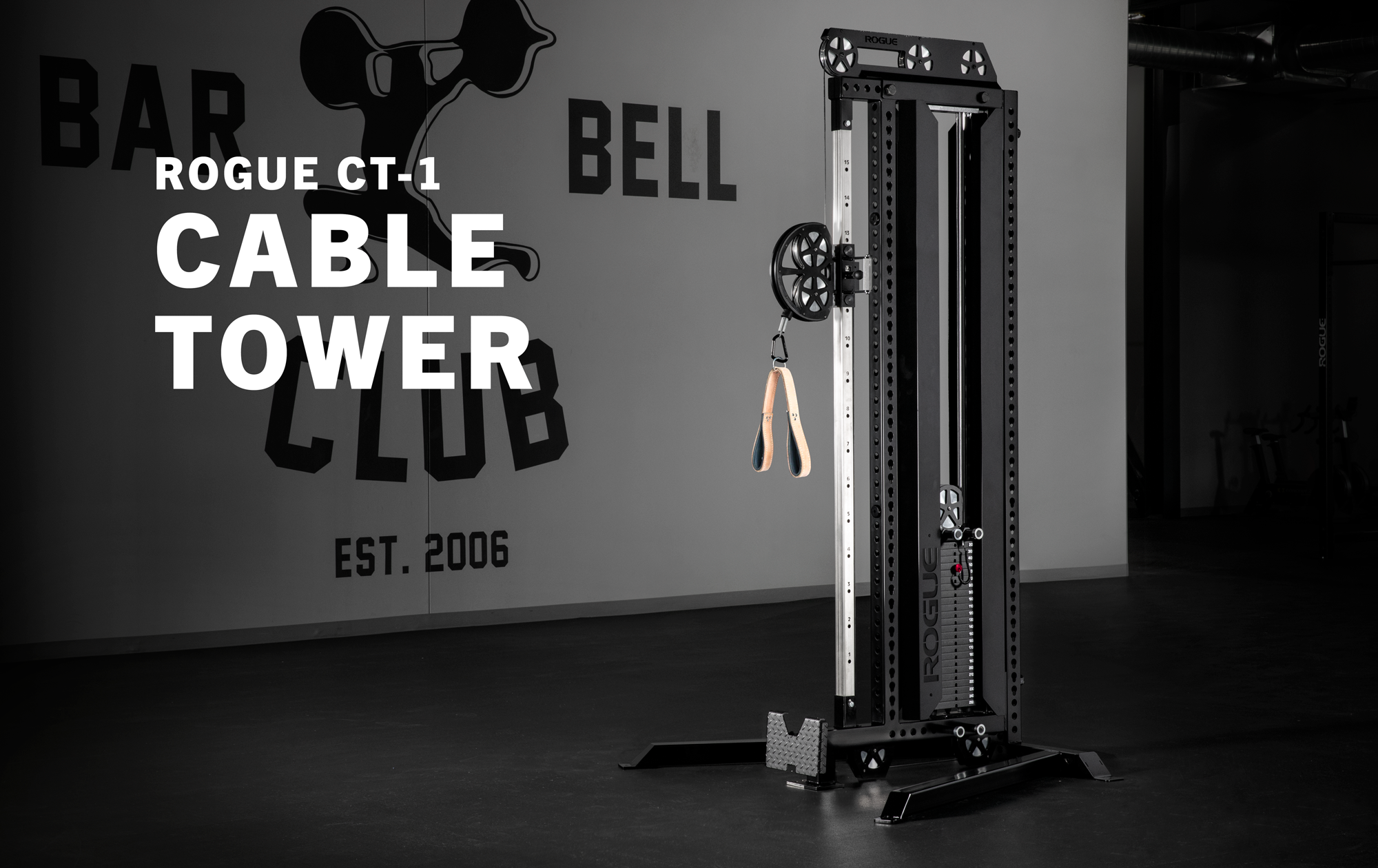 Summary
The Rogue CT-1 is a stand-alone cable column with a patent-pending pulley system not seen in most cable machines. Although this is only a single cable, you can still perform a bunch of different exercises. For the full array, however, you might want to consider purchasing a second tower - although this option is fairly costly.
Make sure your indoor space can accommodate the height of this cable machine, as it stands at a whopping 108", much taller than most of the cable crossover machines on this list.
For a single tower, the CT-1 sports a significant amount of weight, with a 250lb weight capacity. Like all Rogue products, the technology and hardware used here are all state-of-the-art. Even the cable handles are knurled steel for a long-lasting grip.
Dimensions: 60" x 52.5" x 108"
Pros
One of the best cable crossover machines on the market

Newly-patented pulley system

One of the heaviest lb weight stacks
Cons
It may be too tall for many home gyms

Must be bolted to the floor
Key Takeaway
A quality cable machine through and through, the Rogue CT-1 cable tower at the top of its class in design, quality, and function. For the full range of exercises, however, you'll need two, and they need to be bolted into the floor. If you want the best of the best machines for your home, though, this is it.
7. Titan Cable Crossover Machine
Summary
This wide cable machine might resemble the two-sided cable machines you see in the gym. The main differences here are the requirement of your own weight plates to load the pulleys with, and the lack of adjustment. This means you can only lift from the bottom or top positions.
The Titan cable crossover machine is still capable of many exercises, including bicep curls, lateral raises, tricep pushdowns, chest flys, and many more.
This frame also provides ample space to place a bench in between the cables for even more exercise options. A simple, cost-effective cable machine to add to your home gym.
Dimensions: 36" x 113" x 83.5"
Pros
Lower price range

Width more effective for chest flys

9.75-inch plate holders
Cons
Can't adjust cables - only high or low
Key Takeaway
A simple, plate-loaded cable machine with over 9-inch plate holders means the Titan cable crossover machine can hold all the weight you need. If you're a taller lifter, the extra width will allow you to get a full range of motion on your crossover exercises.
8. Body-Solid SCC1200G2 Cable Crossover
Summary
This final entry from Body-Solid is as close to a commercial gym cable machine as you can get in your home. Featuring two 160lb stacks and 12 adjustment levels in the handles, all your workout needs are covered.
Optional extras such as the pull-up bar, resistance band attachments, or a bench will allow you to do popular exercises like knee raises, military press, incline flys, and many more.
The SCC1200G2 comes with two ergonomic handles that create space around your wrists and forearms that some handles can irritate. There's also plenty of space for two people to use the machine at once if you're training with a friend or family member.
Dimensions: 35" x 156" x 91"
Pros
Used in smaller gyms

Sturdy frame

Pull-up bar and resistance band attachments
Cons
Key Takeaway
If you want one cable machine that will never require an upgrade, the Body-Solid SCC1200G2 is comprised of premium, commercial-quality components. A solid, dependable machine for high-end home gyms.
9. Inspire Fitness FTX Functional Trainer
Summary
The FTX has a nice triangular footprint, making it easy to fit into a corner. This gives you the functionality of a cable machine without the large footprint many of its competitors have.
The design of the pull-up bar also feels comfortable on the wrists and adds some extra height to avoid having to bend your legs too much.
The best thing about this machine from Inspire Fitness is that the cable tower has 30 levels of adjustment - almost double that of the next best option! That's an awesome level of customization to your exercises.
Dimensions: 40" x 54" x 85"
Pros
Fits easily into a corner

Thirty pulley positions

Many handle attachments
Cons
Heavier weight stacks on the market if you're planning heavy lifting
Key Takeaway
A compact, corner-fitting design gets you a quality cable machine that won't take up too much space. The Inspire Fitness FTX comes with a good assortment of handles included, which you can arrange in any of its 30 positions. One of the most granular cable machines to suit any body type.
10. ARCHON Wall Mount Cable Crossover
Summary
The Archon Wall Mount is unique on this list for being secured to the wall, allowing an impressive 250lb weight limit on each side with no worry of instability. The other benefit of two separate sides is that you can choose how wide to place the towers to suit your height and limb length.
The smooth chrome rods and linear steel ball bearings make this one of the smoothest plate-loaded cable machines. It comes with everything you need to load it up and lift comfortably with well-designed handles.
If you have the wall space to mount this rig, it's a super-strong design for heavy-duty cable exercises. And it won't take up half the floor space like many bulkier designs.
Dimensions: 35" x variable" x 82"
Pros
Secure and stable

High weight capacity

Saves space being close to the wall
Cons
Key Takeaway
The only wall mounted cable machine on this list, the Archon crossover machine is probably the best cable machine for being secure when using weight plates for resistance. You'll be able to go heavy on this one, without worrying about the machine tipping over.
There you have it! 10 of the best cable machines out there today. There are a few unique designs, so we're sure there's an option that will suit your home gym.
Next, we've provided a buyer's guide to all the important factors to consider when buying a cable machine; some popular exercises to do on your machine, and finally, the answers to some frequently asked questions.
What to Consider When Purchasing a Cable Crossover Machine
1. Size and Footprint
Home gyms come in all shapes and sizes, from large garages to small home offices. Cable machines can take up a lot more space than free weights or other equipment.
If you want your crossover station to have a chin-up bar, for example, make sure you check that your ceiling height will accommodate both the machine and the extra clearance.
A wall-mounted machine, like the Archon station, might save you some more floor space. Alternatively, a compact cable machine like the Body-Solid BFFT10R is a fully equipped machine with a much smaller footprint.
2. Weight Capacity
The next consideration is how much weight you want to lift in your heaviest exercises. Any machine will handle some light lateral raises or bicep curls, but for bigger compound exercises, make sure both the weight stack and resistance ratio can provide that.
For plate-loaded machines, make sure the weight capacity of the attachments and the cables will handle the weight you want to place on them. Overloading a cable machine is a risky proposition, so make sure you do your research and exercise safely.
The two highest maximum weight machines in this review are the Rogue CT-1, with its maximum weight of 240 lbs, and the XMark functional trainer, with two 200 lb stacks.
3. Versatility
Finally, the best cable crossover machine is the one that allows you to do every exercise you want to do! The best cable machine for your home gym might be the Valor Fitness BD-61, which has four 180 degree handle attachments as well as a chin-up bar.
If you want a lot of space to do your pull-ups with a full range of motion, the Powerline PCCO90X has ample clearance.
Every cable machine has different benefits, so check out some options from this review and go from there.
Cable Crossover Machine Exercises
Cable Crossover
The namesake of the machine, the cable crossover is a chest isolation exercise. The pulleys can be placed at low, middle, or high angles to work different portions of the pec muscle.
To perform a cable crossover, hold the handles at either side with the arms outstretched. Lean forward slightly at the hips, and squeeze the chest as you bring the hands forward. Cross the hands over each other and hold, before slowly bringing the arms back out to the starting position.
Perform this exercise slowly and avoid using momentum to cheat the movement.
Tricep Pushdown
Next, we'll use the high pulley to focus on the triceps. With a bar or rope attachment, stand facing the pulley with the elbows at your sides.
Keeping the upper arms locked, extend your elbows as you bring the bar down towards the front of your hips. Squeeze your triceps as you lock out your arms at the bottom of the movement.
Slowly resist the weight as you bring your arms back up to the starting position. Refer to the video above for a demonstration.
Cable Lateral Leg Raise
Cable machines also offer some unique exercises for the lower body. The lateral leg raise, or cable hip abduction, strengthens the stabilizing muscles of the hips, toning the thighs and glutes in the process.
For this exercise, place an ankle strap attachment onto the lowest setting of the cable, and wrap it around your ankle. Stand side-on with the attached leg further away from the pulley. Hold on to the frame for balance as you brace the core, and squeeze the glutes to raise the foot out to the side.
Lift as far as you can without leaning or swinging the leg, and slowly lower to the starting position.
Single Pulley vs Double Pulley: Why Some Weights Feel Heavier
When using different machines, it can get confusing when the weight you've been able to lift on one machine seems much heavier on another.
This is because different cable machines use different numbers of pulleys as leverage. This creates differences in what is called the resistance ratio.
Cable machines can have any number of pulleys. Typical ratios are 1:1 and 2:1. For example, on a 1:1 machine, if you select 50 lbs of resistance, you will require 50 lbs of force to lift the weight.
On a machine with more pulleys - say a 2:1 ratio - selecting 50 lbs will only require 25 lbs of force to move it. This is because the pulleys are assisting the lift.
When purchasing a cable machine for your home gym, make sure the resistance ratio and provided weight allow you to have enough weight for your workouts. For example, a machine might have a 200 lb weight stack, but a 2:1 ratio, meaning the maximum resistance you'll get is 'only' 100 lbs.
If the weight feels different when you use a different machine, just remember this rule and adjust accordingly.
Frequently Asked Questions
How do I adjust a cable pulley machine?
Cable machines can use either weight plates or pin-loaded weight stacks. To adjust the weight on a plate-loaded machine, simply add or subtract the weight plates required to provide the right resistance. For weight stack machines, pull the center pin and place it in the desired spot.
To adjust the position of the pulley handle, there is usually a spring pin mechanism with a handle. Holding this handle with one hand, use the other hand to pull the pin. Raise or lower the handle to the desired height, release the pin, and move the handle up and down slightly until you feel the pin snap into place.
Is a cable crossover machine worth it?
Cable machines are highly versatile, safe, and effective home gym machines. They protect the joints and guide the load in a controlled manner. While free weights also have their benefits, there are a huge number of unique exercises that can target the muscles in a different way, and these can only be performed with a cable machine.